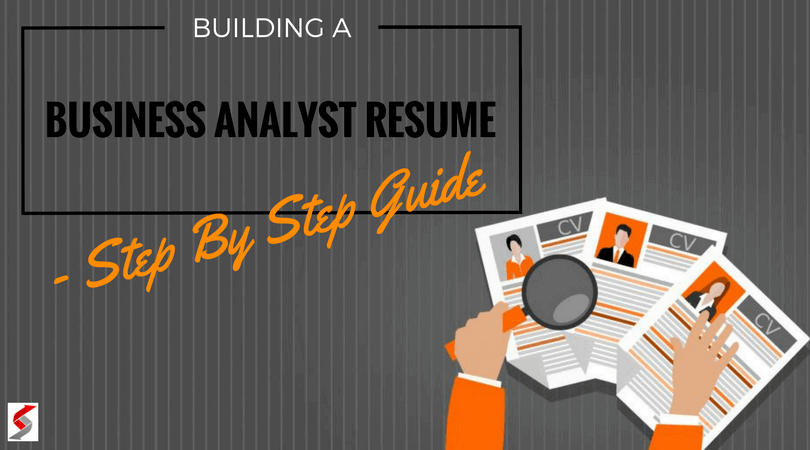 If you are creating or editing your business analyst resume for your next job hunt, the key question that comes to your mind is "What should I include in my resume to draw the attention of the hiring manager?". Obviously, all the serious contenders of the job will be asking the same questions to themselves and will highlight their achievements based on their understanding of the job, but there are few guidelines that will make your resume stand apart.
A hiring manager/committee usually have only 20-30 seconds to select or reject a resume for the preliminary round and there are some very specific things they are looking out in that time-frame. Once selected, you still have a long way to go as your resume should allure all your subsequent interviewers.
In this post, we are tapping right into the brain of an interviewer to understand what exactly he is looking for!
1. Create your own resume, don't use templates and resume builders
If you know your skills, experience, and your strengths well, there is absolutely no reason why you should be copying someone else's resume or using sample resumes over the internet. Using a specimen resume to get an idea about how to portray your case strongly is one thing but ripping off complete paragraphs from some unknown resume is a bad choice. Moreover, since hiring managers browse through thousands of resume every month, that clichéd summary and heading will get noticed immediately and obviously, your resume will land in the 'Rejected' pile.
My biggest suggestion – Make your own resume. It might take some more time and appear to be an arduous task but in the end, you will discover many different ways to portray your expertise and achievements. Also, it will elevate your self-confidence as each and every word in your resume is true and you have a supporting experience to describe that.
2. Don't forget to include a Career Synopsis or Objective
An objective section just does the same thing to your resume what an elevator pitch does to a product – highlight what exactly you are bringing on to the table.
In this section, allow somebody to get a quick insight of your overall skills, experience, expertise and values you believe in. It should be something that can be read in 10-15 seconds and should not exceed 70-80 words. Another important note is to tweak this section based on the responsibilities and guidelines of the job you are applying to showcase that you are not only qualified but excel in the skills required to get the job done.
3. Segregate and list all your technical skills and expertise – in plain sight
This is one of the simplest amendment that you can do to your resume that will have the maximum impact. 80 percent of the resume I go through as a hiring manager lacks a section highlighting specialized skills or technical expertise. Some managers have the patience to carefully study all the sections of a candidate's resume to ascertain his capabilities and suitability to the job, whereas others are just pressed against time. It's in your hands to make things evident for your selectors and increase your chances of getting picked up for the preliminary round.
The things you should list in this section are:
Certifications: They add a lot of credibility to your candidature and should be highlight first like CBAP, CCBA, PMI-PBA
Domains: Listing of all the domains you have experience in like Banking, finance, and logistics
Methodologies: Software Development Methodologies like Waterfall Development, Agile Development, Extreme programming, Joint Application Development etc.
Technologies/Frameworks: List the technologies used in the projects you have worked as a business analyst like Java, PHP, .NET, Business Intelligence, web services, and web technologies
Testing: A business analyst is also a functional tester, so the tally should be like Functional testing, Load testing, Data integrity testing, Automated testing etc.
Database: Any database tools you have a knowledge of, like SQL, Oracle 9i, RDBMS
Office Skills: Catalogue all your office skills like MS Visio, MS Project, MS Excel, MS Word, MS PowerPoint, MS Outlook
Prototyping Tools: List down all the mockup tools you have used or have knowledge of. For instance, Balsamiq and Lucidchart




4.Have a separate section to Highlight your relevant experience
If you have been successful in drawing the attention of a selector by methodically listing your skills in the previous section, its time to solidify your impression as an organized Business Analyst – by emphasizing your relevance to the job being offered!
A skeptical candidate might ask me "Why?"
Well, let me tell you by wearing the shoes of a "Hiring Manager". Every resume to me is like a sales quotation, just like the first thing people look for in a sales quotation is 'Price', I look out for 'Relevant skill and Experience'. And, if I am not able to find a pertinent experience or designation in the first page of a resume, it's very unlikely that I am going to turn any more pages!
As an open secret, most of the resumes are not read but skimmed and we want to lay out all our details in the easiest format possible.
Take a look at some of the best tips on highlighting your relevant experience:
In the stretch of past 5 years, if you have worked on 10 different contractual jobs, then there is no need to catalog all of them. Just list down only those whose job responsibilities and work experience match with the current job you are applying for. Doing this will make your case a lot stronger.
Remember, you just have to underscore the experience relevant to the business analyst position and not detail things out. So refrain from over explanations – be precise.
To seize the maximum attention- this section should not go beyond the first page of your resume
This skills and expertise section should include :
 – Relevant experience as a business analyst in months/years
 – Position held at various organizations till date, the designation and a brief synopsis of the experience
 – Specific explanation and precise examples from your professional history that aligns with the job
For instance, a suggested format to clearly lay all the information:
PROJECT COORDINATOR/BUSINESS ANALYSIS EXPERIENCE (60+ Months):

ACME Corporation: Working as a Senior Analyst for past 36 months materializing SAAS based products into actuality.

ABC Technologies: Worked as a Business Analyst for 14 months in Enterprise and web content management domains.

PQR Industries: Worked as an Associate Analyst for 10 months eliciting and documenting requirements for insurance domains projects.

Business Analysis skills – Quantitative and impact analysis, Business case development and Requirement gathering

Assisting in defining project plans, eliciting requirements, delivering project/status reports, evaluating information gathered from multiple sources, reconcile conflicts and decompose high-level information into details at ABC Technologies.

Worked as a liaison among stakeholders in order to analyze, design and reengineer business processes and systems applications at ACME corporation

Project Coordination Skills -Collaborating , executing and implementing projects

Simultaneously managed XXXXX and XXXXX projects by defining project scope and deliverables that support business goals at ABC Technologies and PQR Industries

Assist with the prioritization, action planning and completion of customer specific programs, requests, escalations, and solutions at ACME corporation

Group Leadership – Team building, motivating and mentoring

Arranged weekly team meetings, focusing on targets and achievements while creating a positive working environment at ABC Technologies

Influencing, advising and training fellow employees for appropriate business processes at Mentored and encouraged a 10+ member team to achieve high standards at ACME corporation
You see, if your skills, strengths and career progression is clearly laid out and properly segregated, it will send out an indication that you are a genuine candidate who has accumulated skills and expertise on his way up the career ladder.
5. Use the vocabulary of a Business Analyst as evidence of your experience
If an executive is adept at his vocation, the verbiage of its profession will inadvertently show up in his resume – something interviewers love to see on an analyst's resume.
Liberally use words like elicitation, requirement lifecycle management, functional and non-functional requirements, brainstorming, SWOT Analysis, requirement modeling, ER Diagrams, requirement traceability matrix, requirement verification, and validation, etc.
So, don't hold yourself thinking somebody at the hiring might not understand your language, they possess the basic understand around these terms. Also, in many organizations, the same resume is used for all the interview stages and your resume should be crafted to garner attention at each one of them.
6. Chronologically list all your designations from the latest to the earliest, with the details of the projects
Let me talk about a mistake I see in resumes belonging to highly experience business analysts – Not giving details about the project they work upon.
Some analysts might try to justify their rationale behind this act by saying – "Well, You see, I have many (10+) projects I have worked upon and giving a synopsis about each one of them will consume a lot of real estate on the resume and increase the span of the resume in multiple pages – something nobody from the hiring or interview team will like!"
Although the above statement might seem logical, there are two underlying flaws in this proposition:
The hiring managers are very skilled in skimming, so they know which section to skip while going through your resume and;
You have to be very selective in what you include on your resume and give details about only those projects which you feel will make the most impact on your candidature
Why you should include the project details for your key projects in your resume?
Not all projects are of equal complexity and an interviewer will want to learn what was the business scope of the project you worked upon, who were the stakeholders involved, the project domain and the final outcome post-project delivery. Giving a condensed, 3-4 liner project rundown will help them do a comparative analysis and assess whether you will be suitable for handling intricate projects, liaise between clients and perform other acts of analysis.
Another, although not so common but a mistake worth mentioning is – Not listing your experience chronologically starting with the latest designation you had.
Any interviewer will be less interested in what you did in the past and more interested in what you are currently doing as it will help them see what is your current skill-set, how you gradually accumulated skills as you grew in your career and how well you will be suited for the organization you are being interviewed for.
7. Weave a story which includes your job responsibilities, your achievements and your value additions to the organizations you worked for
You have listed your designation, you have briefed them about your project, now what next? Next comes, what exactly you did at your job!
This is often the weakest areas on a resume and is usually a continuous rant of project responsibilities in bullet points with a flavor of flashy, complex lines copied from sample resume over the internet!
Please. Don't do such immature mistakes. Your interviewers are just too smart for that!
If I am interviewing a candidate and come across 2-3 lines like this, I try to avoid them and not become judgmental. But, sometimes, candidates just go overboard, use complicated words and convoluted sentences which have no correlation with the project or their personality.
Result? A very obvious rejection.
Now, the key to winning in this section is – A tactical and honest approach towards showcasing what you actually did at your job as an analyst
Being Tactical – In your project synopsis, you have already listed down what was the business problem you were trying to solve as an analyst. Now, each of the bullet points should be a planned, logical explanation of what you did to achieve that. For example, if you have handled the business requirements related communications within the team, you might portray it as:
"Responsible for impeccable communication flow for the project's business requirements"
However, the gravity and the extent of communications handled is not clearly portrayed by the statement above. Thus, we should highlight it by rephrasing the statement as:
"Responsible for impeccable communication flow pertaining to the project's business requirements between 20+ personnel team dispersed across 4 divisions and 3 geographic locations"
Notice the difference?
Being Honest – I have already re-iterated that you should create your own resume and not copy things up from different sources. Also, an interviewer has accumulated insights in the analysis domain by years of experience and he can instantly catch fake sentences or deceptive explanations.
Thus, just by being honest towards the quality of your experience and giving accurate details you and your candidature will gather an interviewer's respect even before meeting him in person.




8. Justify your accomplishments by giving specific details of how it was achieved?
We are now going to discuss one characteristic that is present only in the resume of a seasoned and adept Business Analyst.
Business Analysis is a details and result oriented profession. During all the elicitation, analysis, documentation and coordination activities an analyst should give attention to details, and, it should produce tangible results (add value to the existing systems/processes/products).
The same quality of being 'detail-oriented' have to reflect in your resume and each of your bullet points should clearly describe 'How' you achieved something – what process you incorporated, what best practices you utilized, what techniques you implemented.
For e.g. we will again re-phrase and finalize the above statement:
"Responsible for impeccable communication flow pertaining to the project's business requirements between 20+ personnel team dispersed across 4 divisions and 3 geographic locations by following communication management plan, using project specific communication matrix and utilizing standard organizational formats for project artifacts"
Just by reading the above statement an interviewer can apprehend that it's written by a business analyst who is clearly aware of his responsibilities, knows 'what' needs to be done to fulfill them and most importantly, he knows 'how' to do that. Your resume will stand out and speak volumes about your competency as an analyst if each of your bullet points answers these What's and How's.
9. Don't forget to include your personal details and academic qualifications
Last, but far from the least is including your academic qualifications as well as your personal details. You should be careful about how much information you might want to give here and a safe bet will be a list like the one below.
Academic qualifications
Name of the Degree/Certificate course
Name of the Institution/College
Name of the Board/University
Year of passing
Percentage scored
Personal details
Date of Birth
Father's Name
Nationality
Languages Known
Marital Status
Passport Number
Summary
In our professional experience in the Information technology world, we pick a lot of skills, however, all of you skills might not appeal to a selector. Based on the job offered, they are in a look-out of a very specific skill-set and their eyes prefer to see only those details that stand relevant to them. Thus, there could not be a general resume that you can utilize in every position of a Business Analyst.
To maximize your chances of acing the initial as well as future rounds of interviews you need a careful study of what kind of experience the job wants, utilize the knowledge shared above and model your complete resume around your relevant skills.
Good Luck and Godspeed  🙂
PS: Make sure you check the key skills that every business analyst must know.