Anybody who is even remotely associated with the field of Information Technology (IT) is sure to have heard the term 'Business Analysis' or 'Business Analyst'. However, unlike the role of a 'Project Manager' or 'Software Developer', the set of job responsibilities around the role 'Business Analyst' is not very self-evident and many times people are left wondering what's the actual description of a Business Analyst's job?
In this article, we are going to demystify the business analysis practice and know who is a Business Analyst, why organizations need one, learn about the job description of a Business Analyst along with the different areas they work around.
Definition of Business Analyst
The formal definition of a Business Analyst according to IIBA is "any person who performs business analysis activities, no matter what their job title or organizational role may be" (yes, that simple!).
Also, IIBA defines Business Analysis as "the practice of enabling change in an organizational context, by defining needs and recommending solutions that deliver value to stakeholders".
I would rather simplify the above definition by re-phrasing Business Analysis as "helping companies resolve their functional/technical challenges by first understanding their problems, clearly defining them and then solving them".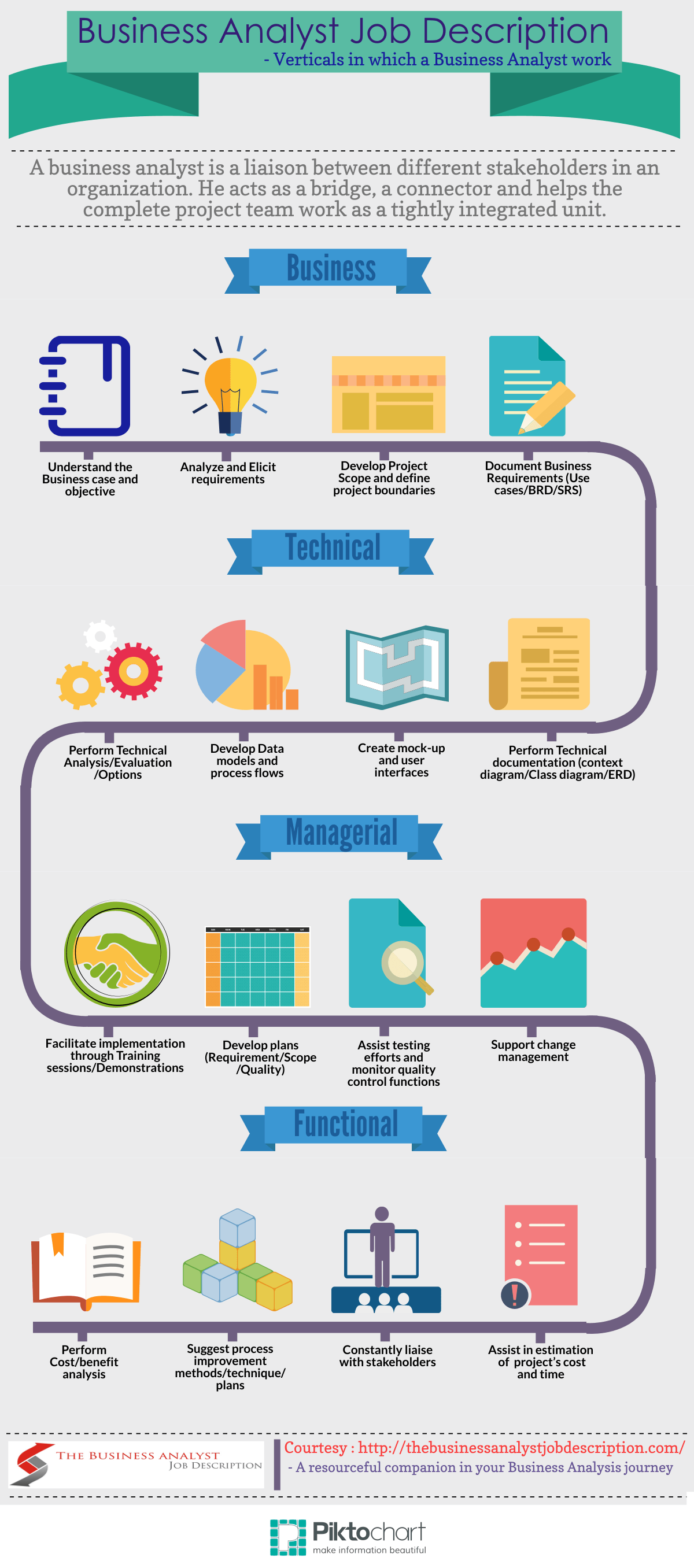 Since stakeholders belong to different domains (e.g. finance, business, marketing) it's very important for a business analyst to be able to sort and balance the needs of these stakeholders while fulfilling the business objectives at the same time.
Understanding Business Analyst role (with an example)
To understand the above definition better, I want you to do a bit of a role-play and consider that your existing phone is not working properly and you wish to buy a new mobile phone. However, there are plenty of decent mobiles available in the market and you resort to taking help from your friend, Robin. Below are the questions that are asked by Robin:
Why do you even need a phone?
Why do you wish to buy a new phone? Can you settle for a used/second-hand phone?
How much money are you willing to spend on the new phone?
How soon you wish to buy the phone?
What are the primary activities you perform on a mobile phone? (calling, texting, surfing internet, social media, games, video playback)
What additional features you would like to have on the new phone? (wireless charging, NFC, HD video recording, QHD screen)
Is there a brand or platform preference (iOS or Android / Apple or Samsung )
What's the phone size you are comfortable with?
Based on your answers to the above questions, Robin recommends 4-5 different mobile phone models and you happily choose one amongst them.
You might be wondering where is the Business Analyst here?  Well, your friend Robin is the Business Analyst. Let's see how by taking a look at IIBA's Business Analysis definition again:
"the practice of enabling change (Robin made it possible for you to change you existing phone to the new one) in an organizational context (you were the organization here who wished to undergo a migration from an old to a new phone), by defining needs (Robin helped define what kind of phone you actually needed by asking a series or relevant and pragmatic questions) and recommending solutions (based on your answer to his questions, Robin suggested a couple of mobile options) that deliver value to stakeholders (you were able to buy a phone that fulfills all you expectations and is well within your budget)".
Why organizations need a business analyst?
So, we now understand who's a Business Analyst and with that, we transition to our next question – Why do we need one?
For the sake of better comprehension, let's take the previous example and make it complex by adding an additional set of conditions – Along with you, now there are 3 of your friends who wish to buy a phone, with the condition that the phone model for all should be same!
This makes the work a lot more difficult for Robin as now he has to – collect individual (phone) feature expectations from all 4 persons, discuss and reach a consensus when the requirements of 2 persons does not match, document each of the expectations so that there is no confusion, assess mobiles ensuring that all expectations of all the people are fulfilled and finally recommend one!
Similarly, when new Information Technology products and softwares are created, a dedicated and skilled professional is required to carry out the activities like –
gathering/eliciting the features and functionalities of the product/software being built
assessing and analyzing whether those features are actually needed
drawing out a consensus amongst stakeholders with diverse expectations from the product
proposing solutions (and alternatives) to business problems
documenting product requirements in detail
constantly coordinating with the various team to ensure everybody shares a common vision
All the above activities (and a lot more) comes under the responsibility set of a business analyst.
Business Analyst Job Description
From our discussion till now, it's clearly evident that a business analyst acts as a bridge, a connector and helps the complete project teamwork as a tightly integrated unit. The unique job of analysts requires them to wears different hats and fulfill various duties under different areas of the project (as well as an organization).
For a better understanding, I have divided the business analyst's core job description amongst the different verticals in which they are expected to work in. These are broadly classified as:
Business
Technical
Managerial
Financial
Additional areas of expertise
Each one of these verticals is comprehensively elaborated below.
Vertical 1 – Business
Business can be defined as the "section of any organization that focuses on making decisions about the products and deliverables that helps the organization attain its mission". While working together with the business folks and assisting them, the analyst fulfills the following activities:
Understand the business case
A 'business case' for any project is the reason 'Why'

(i.e. the reason/problem statement) the project was undertaken. A business analyst should comprehend a project's business case thoroughly and understand all aspects of it. This involves reading existing documentation regarding the project's domain, gathering information and talking to different stakeholders.
Fulfill the business objective
Every project has a unique business objective i.e. 'What'

the project is expected to accomplish. A business analyst should understand this objective, validate all the requirement of the project with this objective in mind and ensure that the final project solution is able to fulfill this objective.
Elicit Requirements
One of the integral activity for any analyst, 'elicit' means to obtain and extract requirements from all the stakeholders. The requirement gathering process requires a business analyst to be apt with required skills like facilitation, brainstorming, interviewing and observation.
Analyze requirements
In an effort to recommend a solution to any existing problem/goal, an analyst must examine the current state of a process, learn about its operations and accordingly analyze the requirements of each and every stakeholder.
Develop scope
The project scope is a collection of all what is required to do to achieve the business objective. A business analyst should assist in the development the project scope, resolve ambiguity and define the boundaries of the project.
Since stakeholders belong to different domains (e.g. finance, business, marketing) it's very important for a BA to be able to sort and balance the needs of these stakeholders while fulfilling the business objectives at the same time.
Business Documentation
Another imperative activity for an analyst is 'documentation' which expects them to structurally and methodically document the project's requirements by creating
Business Requirements Document (BRD) to document high-level requirements
Functional requirement specifications (FRS), Use cases and user stories to capture granular requirements
Functionality Matrix (FM) to list down all the functionalities
Requirement Traceability Matrix (RTM) to track all the requirements
Vertical 2 – Technical
The technical vertical deals with all the activities around the implementation of solution using technology/tools/models/techniques. Here, an analyst is expected to:
Exhibit analytical skills
A business analyst should demonstrate problem solving, qualitative, quantitative and visualization skills to resolve business/technical problems and apply logical thinking to come up with appropriate solutions.
Participate in Technical analysis
Apart from the business perspective, a business analyst should analyze the requirements from the technical view-point also (by getting involved in discussions with the tech architects, tech leads and

developers) and uncover any technical challenges that might come in fulfilling the requirements. All this might involve capturing data, creating metrics, evaluating dependencies and developing options.
Develop Data models and process flows
It is required from a business analyst that he should analyze and create graphical representations of the flow of data through the system, modeling its process

aspects. The document generated from this exercise is called the data flow diagram (DFD).
Create wireframes or mock-up interfaces
For evaluation and demonstration, a business analyst is required to create the wireframe or mock-up of the product to be developed. This wireframe is a high-level model of the product and assists in the user interface (UI) and user experience (UX) study of the product's design.
Technical documentation
A business analyst is required to provide technical support throughout the project lifecycle by either developing following documents or assisting their creation:
Context diagrams

– used to show a high-level view of a system and the entities interacting with it.

Class diagrams

– a type of static structure diagram that describes the structure of a system.

Entity–relationship diagram (ERD)

– a model for describing the data or information aspects of a business process.
Vertical 3 – Managerial
The managerial verticals involve being in-charge of project tasks/activities, taking business decisions, guiding and leading resources.
Facilitate implementation
A business analyst must constantly communicate with the management, business stakeholders, vendors, partners, technical team, development teams and testing team to facilitate the implementation of the product functionality by:
helping everybody understand the project vision
clarifying doubts and questions
resolving any ambiguity around the requirements and attaining clear consensus
keeping everybody in the loop about any changes and amendments
Develop plans
Owing to his exceptional understanding about the project goals, a BA should help the Project Manager develop requirement management plans, scope management plans, quality plans and other important artifacts of the project to ensure they are in line with the business objectives.
Manage requirements
Since a business analysts authors a lot of documents (and requirements!) throughout the project course, it's their integral job to manage the complete set of project's requirements artifacts. This involves gaining relevant approvals against the requirements (to avoid future confusions), maintaining latest details within the respective documents and properly storing them in a document repository.
Assist testing efforts
Analysts are expected to ensure that the developed product works exactly as defined in the solution and thus they test the implemented functionality according to the product's boundaries and also monitor the project's quality control activities.
Support change management
Changes are unavoidable in the constantly developing 'agile' environments and business analysts should be able to manage these changes. They should understand the rationale behind the change, assess its viability against the existing business case, analyze dependencies and impact, assist in prioritizing the implementation of changes and lastly, document all the discussions around the change in project's 'change log

' document.
Vertical 4 – Financial
This vertical deals with activities, discussions and decisions around the finances, budget and monetary resources of any project. Analysts (although not very frequently) are expected to help with:
Estimation activities
Business analysts are sometimes required to assist in the estimation of the project's cost and time. Thus, they should have a sound understanding and implementation knowledge of various estimation techniques like function point (FP) estimation, critical path analysis, earned value (EV) techniques, etc.
Cost/benefit analysis
Analysts should be able to assess the viability of a business proposal by estimating its strength and weakness through Cost/benefit analysis. They should, with their domain knowledge, measure the positive or negative consequences of a proposal and present their findings through a detailed analysis report.
Additional areas of expertise
Apart from the four verticals discussed above, analysts also have some additional areas of expertise like:
Domain and SDLC knowledge
The Analyst should have the basic working knowledge of their project's domain (for e.g., banking, finance, insurance, etc.) along with a good grasp of software engineering concepts and project's development life cycle (Waterfall, Rapid application development, Agile).
Leadership skills
Along with excelling in the core analysis activities, BAs should exhibit leadership capabilities like being proactive with the tasks and respecting deadlines, enthusiastic about new concepts and solutions, respecting responsibilities and strong work ethics.
Communication skills
Excellent client facing skills, presentation skills and the ability to communicate (verbal and written) clearly are major contributors towards being a successful business analyst.
Business analysts are the Key resource for any project and are credited with developing the project's solutions while respecting and acknowledging the needs of all the associated stakeholders. It's a career choice that utilizes a professional's skills to the fullest by helping companies attain their business goals and ensures very high visibility (within projects and organization) along with constant recognition of work.
BONUS – Measure your Analysis Efficiency
Do you wish to measure the effectiveness of your business analysis skills and your level of productivity?
If Yes, download the Free Business Analyst Efficiency Checklist that is being provided as a supplement to this article. This checklist will help you gauge your current efficiency level in all the knowledge areas and will give you tips to improve upon. Fill in your details below and receive the Business Analyst Efficiency Checklist right in your inbox.
Additional Reading
We highly recommend to check our related articles which will help you build up your understanding of various other aspects of Business Analysis :